Don't worry about taking a Taxi ever again! You will be understood!

Feel confident and safe as you explore the world without language barriers.

Complete autonomy to do what you want, when you want.

Travel like an explorer not a tourist.

Want to try a local restaurant?

Enjoy conversations and feel comfortable while abroad.

No need for wifi or data, up to 7 offline languages*
*note: this function needs to be purchased in the APP to use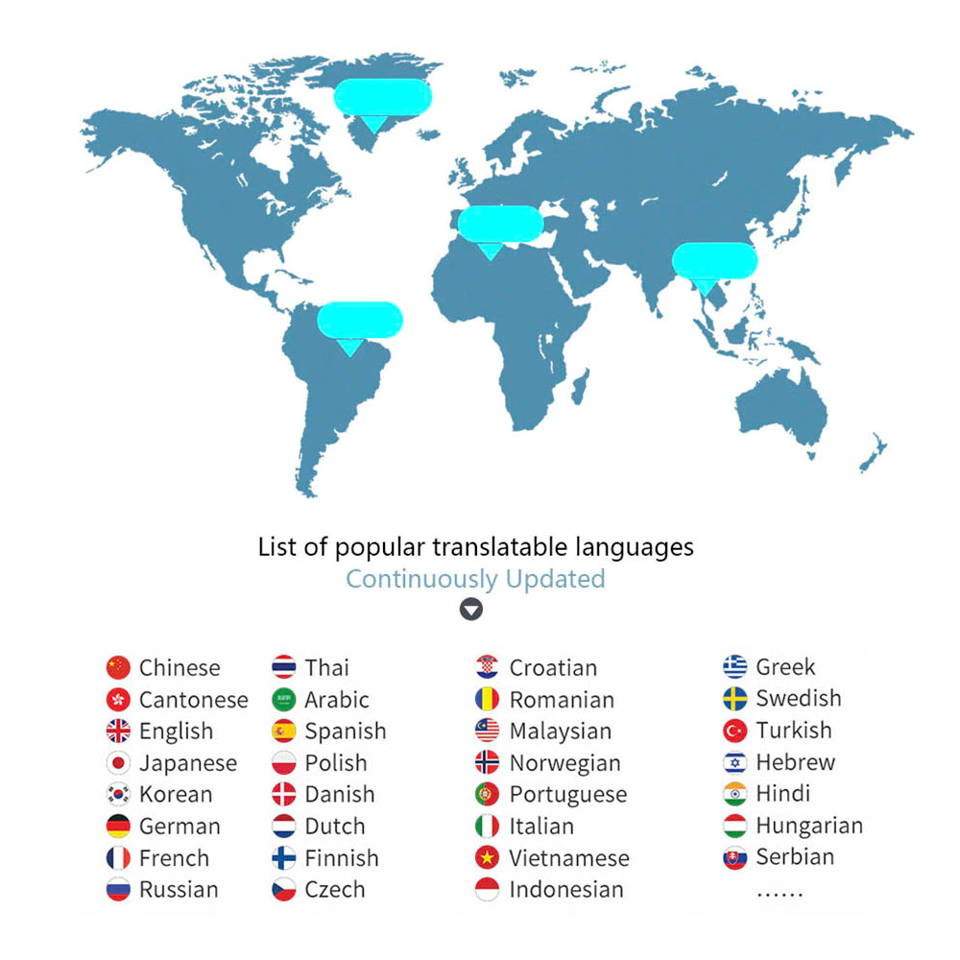 1. Languages Translation
Support up to more than 137 languages translation, each language can be translated to each other. Small and exquisite: Handheld size, small and portable, so convenient to carry with wherever you go. As long as the mobile phone can access the Internet, open the translator to connect to the APP, simple and convenient anytime, anywhere. support 7 offline languages*.
2. Two-Way
Real Time Intercom: It can be used to communicate face to face, and solve communication obstacles. Giving you the most suitable translation results in real time, fast response in seconds.
3. Voice
Translation: Intelligent voice recognition technology to make cross language communication easier. Translate your speech into high quality foreign language text and transmit into voice output.
4. Text Translation:Support text to text translation.
Wide Compatibility: Compatible with most ios and Android phones.
Durable and Rechargeable: Built-in 3.7V 600mA rechargeable battery, low power consumption, plug and easily charge.
5. Connection
Bluetooth Wireless Connection: Connect to your phone via Bluetooth, allows wireless transmission distance up to 10 meters, and the distance of voice recognition is 2 meters.
6. Photographing
Translation: Choose the language you want to translate, and take a
photo of the original language text by your mobile phone, it can
translate in high precision.
(note: this function needs to be purchased in the APP to use)
Products have
reached consumers
Satisfied customers and
five-star reviews
Recommended by all types
of international travelers.
How does Pocketlingo work?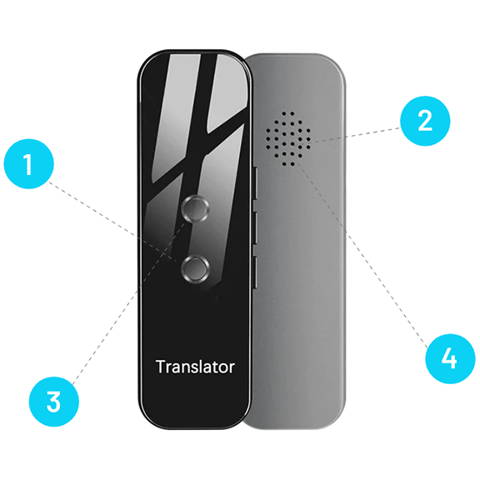 1. Press button and
Speak your language
While holding the button, speak
in your language to Pocketlingo.
2. Release button &
listen translation
When done speaking, release the button and Pocketlingo starts translating.
3. The other person talks back
Hold the other button and the other person speaks in their language.
4. Release button &
listen back
Now, you can hear the translation of what the other person said.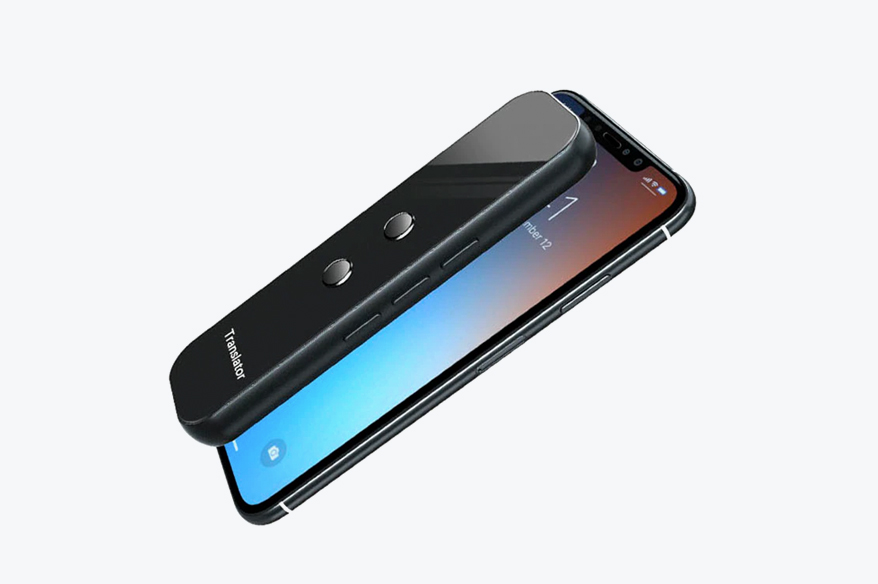 Connect with locals to get a feel of the town!
Get information about local hot spots, events, and whatnot.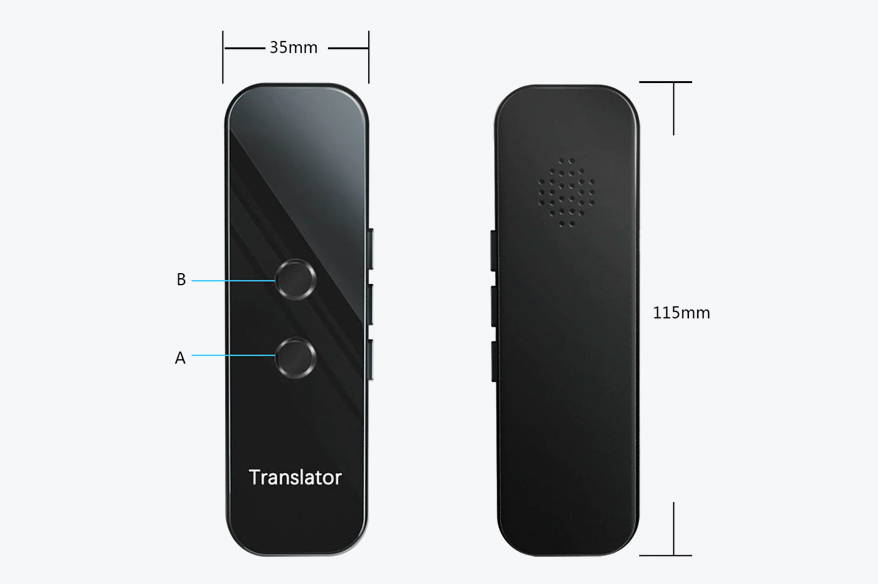 You will feel confident and safe as you explore the world
without language barriers.
Let's Hear What Our
Customers Say
Product really translates as שהובטח
Not yet tested, but fast shipping, I sell recommended
The device W Mt good, but the bacteria does not time Mt
Thank you very much for your sells very fast shipping within one week arrived
Good unit very satisfied with it
Frequently Asked Questions
Still have questions? Send us your question by filling out the form below, we will be happy to assist you.
What is included in the package?
1 Translator, 1 Charging Cable, 1 User Manual, 1 packing box
What is the return policy?
We have a 30-day return policy, which means you have 30 days after receiving your item to request a return. If you wish to read more details, please go to to our
Refund Policy page
.
Help! I've got a technical problem, who do I contact?
No worries. We've got excellent customer service, helping you with any issues you might have. Just email us at support@winnik.com.
How can I track my order?
You can login to your account to track your order and get updates. You can also check out from
Track My Order